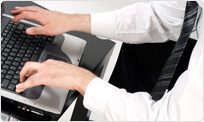 Platform Infrastructure Development & Service Management
Investment Gateway's core is a small dynamic team of professionals with diverse yet in-depth experience in international business, research, consulting, marketing communications, and information technology engineering. Combined, the team has extensive experience in the Cyprus market, in Europe, the Middle East & North Africa, Australasia, as well as having dealt on numerous projects in many other markets throughout the world.
The core Investment Gateway team maintains the Investment-Gateway.eu platform and exchange of information, implements new strategies for development and growth, associate network and quality control monitoring, as well as a certain amount of client account management and customer service. The core team is also responsible for all client website design and development, domains and internet hosting services.