European Cyprus China's Gateway to Europe, Africa & Middle East
Address by the President of the Republic Mr Nicos Anastasiades at the Cyprus – China Business Forum
| | |
| --- | --- |
| Published on: 18 October 2015 | |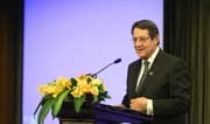 It is a great pleasure to be here today, addressing such a distinguished audience with a special interest in exploring the business prospects that Cyprus has to offer.
I consider this conference an excellent occasion to share with you a few thoughts regarding investment opportunities in Cyprus and how Cyprus can become China's gateway to Europe, Africa and Asia. Allow me to thank for this unique opportunity the China Chamber of International Commerce, the Cyprus Chamber of Commerce and Industry as well as the Cyprus-China Business Association who have made today's event possible.
This forum provides a wonderful opportunity for you to further explore the wealth of business and investment prospects that Cyprus has to offer in various economic sectors.
First of all, let me stress that Cyprus and China enjoy excellent long-standing bilateral relations. Cyprus considers China to be an important, true friend and my Government is committed to facilitating cooperation between our two countries and, of course, also our business communities in every possible way.
Let me assure you my Government places utmost importance on broadening and deepening Cyprus's trade and economic relationship with the global power that is China. Indeed, we are confident that the strengthening of our relations, at all levels and in all sectors, will benefit both our peoples and we aim at ensuring that our shared vision is effectively realised.
Attracting investments is the Cyprus Government's top priority. Foreign investments constitute the catalyst for economic growth, job creation and prosperity.
Cyprus is emerging stronger than ever from an unprecedented crisis. Our country's comparative advantages not only remain intact, but have been further enhanced and developed, setting it apart from most investment destinations. These include:
A significant network of Agreements for Avoidance of Double Taxation (57 as of today)
A highly qualified and professional workforce
A fully EU harmonised tax and legal system
One of the lowest and most competitive corporate tax rates in Europe at 12.5%, making it an attractive investment destination and a highly competitive centre for international businesses, offering them a platform for their operations and preferential access to markets like Europe, Middle East and North Africa, Russia, China and India, and Asia in general.
The safe environment Cyprus provides, our traditional hospitality and our all-year-round good weather have also been pinpointed by various studies as comparative advantages, making our country a "value for money" destination for both the occasional visitor and the investor.
My Government is currently implementing a series of measures which include the simplification of procedures for the faster issuing of permits and licensing of investment projects and operation of businesses, as well as the speedier granting of residence permits to foreign investors.
Most importantly, opportunities for growth exist in the majority of economic sectors of Cyprus including commerce, tourism, privatisation of ports, electricity and telecommunications, shipping, real estate, large-scale development projects, education, health, research and innovation.
Especially today, the discovery of natural gas reserves within Cyprus' Exclusive Economic Zone creates excellent investment prospects in the energy sector and ancillary services. Not surprisingly, the emerging oil and gas industry to be created on the island is expected to provide a significant boost to our economy, spearheading significant growth and driving numerous other sectors as well.
In addition to the rapidly developing oil and gas sector, the renewable energy sector has great potential for investment and growth. Cyprus has a special interest in collaborating with China in the field of energy efficiency and the promotion of renewable energy sources. China, as a possessor of technology and a producer of Renewable Energy Systems for electricity generation, can offer valuable know-how regarding new technologies and the optimisation of existing systems, including energy storage.
Furthermore our Government will also be publishing soon a tender for the creation of a Science and Technology Park in Cyprus. We can certainly benefit from drawing best practices from China, which is today managing 120 Science and Technology Parks and we welcome and promote, of course, Chinese involvement in this project.
In addition, we are taking measures to simplify procedures of visa application so as to make it easier for Chinese tourists to visit our beautiful island.
To this end, we have chosen a private provider through a tender competition, in order to establish a number of authorised visa application centres in Chinese cities, 5 at first stage and 15 in total, where there is no Cypriot diplomatic or consular representation. This process will start towards the end of 2015 Our efforts are bearing fruit, as evidenced by the fact that Cyprus has officially exited recession and is registering growth as of this year.
Our journey along the road to recovery has been faster than anyone could predict two and a half years ago. With a restructured and fully recapitalised banking sector - mainly through important international investors - fiscal imbalances permanently addressed, and a program of radical structural reforms, Cyprus has returned to the international markets much earlier than any other program country. Cyprus is now referred to as a model for recovery.
Through the introduction of decisive and effective structural changes and the significant reductions achieved in costs and operating expenses, the already attractive investment destination that Cyprus is, has now become considerably more competitive and efficient.
To this end, I would like to point out the very important Agreement, signed in Nicosia last September, between the Government of the People's Republic of China and the Government of Cyprus, for Science, Technology and Innovation Cooperation.
In closing, I would like to thank you for promoting Cyprus and invite you as the leading Chinese companies to further explore investment programs and prospects in Cyprus and to cooperate with Cypriot businesses, taking full advantage of the many opportunities offered in the various economic sectors.
Concrete examples are the competitive procedure for selection of the single licensee for the Cyprus Integrated Casino Resort that has commenced last September, and also several large infrastructure projects in our tourism sector, which include the soon to start construction of the Ayia Napa Marina and the ongoing public tender for a Strategic Investor to develop the Paralimni Marina.
Towards this end, my Government will offer all assistance necessary to support and facilitate your efforts in developing your business operations. We are determined to do our best to help you experience first-hand that Cyprus is indeed an excellent place to live, to do business, to invest, to prosper.
Return to Press Page
About Investment-Gateway.eu
One contact, multiple options
Established in 2011, Investment Gateway is an independent and impartial hub and initial point-of-contact to leading supplier-firms in Cyprus that provide professional services for investment purposes, including company formations, subsequent company administration and maintenance services, accounting and auditing, global tax planning, wealth management, as well as international banking. Investment Gateway introduces you to the right partner from a pool of pre-qualified supplier-firms, made-up of leading accounting, legal and consulting agencies in Cyprus.
The Investment-Gateway.eu platform is a completely free service, together with offering added-value content in general information, news updates, documents and analytics on the local Cypriot, European and global economy to help with investment strategies to the EU, Europe, Russia & CIS, Middle East & Africa, as well as around the world.
Investment Gateway Contact information:
Investment-Gateway is an eco-friendly professional services platform, taking action on global climate change by offsetting carbon emissions on behalf of all clients. Learn More