Donald Tusk, new President of European Council
On 1 December 2014, Donald Tusk, the former Prime Minister of Poland, replaced Herman Van Rompuy as the President of the European institution.
| | |
| --- | --- |
| Published on: 01 December 2014 | |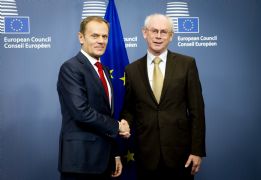 Donald Tusk was elected by the 28 EU heads of state or government - on 30 August 2014, for an initial term of 2,5 years. His predecessor, Herman Van Rompuy, was the first President of the European Council, in office from 2009 to 2014. 
First day in the office
At an handover ceremony taking place in Brussels, Donald Tusk expressed his appreciation for the work of Herman Van Rompuy and outlined four of the priorities that will guide his mandate. 
The new President recognised the outstanding contribution of Herman Van Rompuy in steering Europe out of the economic crisis. He indicated that he will keep working with the same important principles that guided the action of his predecessor: trust, common sense, moderation, and decency. 
Donald Tusk also explained what he wants to achieve for Europe in these difficult times:
he is deeply committed to protect the EU fundamental values of freedom and solidarity, and preserve the unity of the EU against internal and external threats
he is strongly determined to end the economic crisis and feels responsible to complete a genuine Economic and Monetary Union
internationally, he wants the EU to be strong and support countries in the neighbourhood who share the same democratic values
he emphasised that the transatlantic relations between Europe and the United States are the backbone of the community of democracies
About the role
As President, Donald Tusk now heads the European Council - the body that sets the EU's political direction. He is also the face of the EU internationally, representing the EU at the level of heads of state or government.
The role of the President of the European Council
About Donald Tusk
Donald Tusk served as Prime Minister of Poland between November 2007 and September 2014. This made him the longest serving Prime Minister in democratic Poland and the first Prime Minister to be re-elected since the fall of communism in Poland.
Associated Documents & Reading Material

Remarks by President of the European Council Donald Tusk.pdf

Remarks by outgoing President Herman Van Rompuy.pdf
Source: European Council
Return to Press Page