Helping Europe Recover Economically
2015 EU draft budget to help Europe's economic growth despite financial constraints.
| | |
| --- | --- |
| Published on: 12 June 2014 | |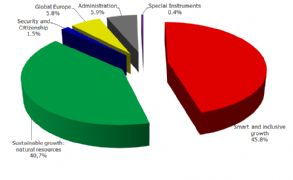 "Combining the legacy of the past with helping Europe recover from the crisis, and this with scarcer resources". This is how EU budget Commissioner Janusz Lewandowski describes the EU's 2015 draft budget as adopted by the Commission (commitments: €145.6 billion; payments: €142.1 billion).
The bulk of the commitments is for future projects that make Europe stronger economically whereas some 40% of the payments still cover EU funded projects from the 2007-2013 financial period. Also the Commission is proposing a further 1% reduction in its staff numbers, the third such cut in three years.
"The EU budget is 28 countries pooling together a small part of their resources to the greatest benefit of more than 500 million Europeans, adds Janusz Lewandowski. It helps avoid duplications of efforts at the national level and makes each of our member states stronger as combined efforts bring better results than fragmented action. The 2015 draft budget amounts to 1% of combined GNI of all Member States and manages to take into account present and future major issues such as the Ukrainian crisis or the need to strengthen the EU's energy security by refocusing its scarce resources."
The proposed increase of 2.1% in commitments and 1.4% in payments is virtually absorbed by the estimated inflation rate for 2015.
Commitment appropriations focus on the new programmes (2014-2020 MFF) and almost 60% of the proposed amount is dedicated to programmes that support Europe's research and innovation, youth and businesses.
The lion's share of payment appropriations goes to areas that boost Europe's economic growth and jobs (+29.5% compared to 2014) such as research (Horizon 2020), trans-European networks for energy, transport and ICT (Connecting Europe Facility) or the Youth Employment Initiative.
Other areas that see an increase in payments are the asylum, migration and integration fund (+140%) and protecting Europeans' health and consumers (+20%).
The functioning cost of the EU remains stable at around 4.8% of the total budget. Its increase (+1.6%) is around the expected rate of inflation, therefore it does not increase in real terms. The draft budget also includes the third 1% staff reduction in three years. Finally, the Commission cut the expenditure and staffing requests of other EU institutions to better align them with the staffreduction target of 5% over 5 years and apply restraint to other administrative costs.
What next?
Following today's adoption by the Commission of the 2015 draft budget, the Council (Member States) will adopt its position on it, followed by the European Parliament. This will be followed by a 21-day conciliation period to find a compromise agreement between the Council and the Parliament.
More information
Website of the EU BUDGET: http://ec.europa.eu/budget/index_en.cfm
Source: European Commission
Return to Press Page