Investing in Azerbaijan with Assurance
Azerbaijan's economic potential continues to grow, backed by a range of economic & regulatory reforms to ensure a sustainable business & investment environment.
| | |
| --- | --- |
| Published on: 29 April 2014 | |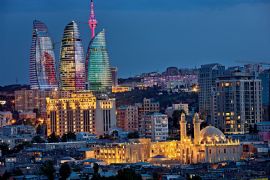 In recent years, Azerbaijan has significantly improved its business climate in terms of ease of doing business and has quickly become the leading FDI destination in the region, fuelled by major investment sectors such as energy, agriculture, technology infrastructure and tourism.
The introduction of "one-stop-shop" system of business registration in 2008 was designed explicitly to reduce the red tape, costs and paperwork associated with the process of business registration.
Moreover, Azerbaijan introduced an electronic registration of individual entrepreneurs and this system is already available for limited liability companies with local investments. It is expected to improve e-registration of business for all types of enterprises. Important reforms were also undertaken in employment regulations, registering property, access to finance, paying taxes and protecting investors.
According to the World Bank's Doing Business 2009 report, Azerbaijan made a substantial leap, from 97th place to 33rd out of 181 economies. Azerbaijan improved in seven of 10 indicators, catapulting 64 places in the rankings, the biggest jump ever recorded by the World Bank. Azerbaijan is placed among the top economies narrowing the distance to best performance since 2005 according to the Doing Business Report 2013. Moreover, Azerbaijan applies one of the simplest business registration procedures in the world and ranks 18th place in starting business among 185 countries.
General Guarantees
Adopted through a public referendum in 1995, the Azerbaijani Constitution declares Azerbaijan a democratic state governed by rule of law. Azerbaijani Law on Protection of Foreign Investment (the "Foreign Investment Law" or "FIL") and international treaties on protection of foreign investments are the principal laws aimed at protecting foreign investment in Azerbaijan. Among other things, the Foreign Investment Law (1) affords national treatment ("no-less-favourable" treatment) to foreign persons in economic matters – i.e., equal treatment of foreign and local persons, (2) requires payment of compensation for nationalization of foreign investment, and (3) allows foreign investors and Azerbaijani government authorities to agree on jurisdiction of courts and foreign arbitration as the dispute resolution mechanism.
Foreign Investment: definition
The Foreign Investment Law lists the type of activities that, if carried out in Azerbaijan by foreign persons, may be considered a "foreign investment". The list is set out in Section 3 of the FIL and includes contribution to capital of a local entity, establishment of a subsidiary, acquisition of securities and other assets in Azerbaijan etc. Further, a foreign investor may agree with local persons on other3 types of foreign investment in Azerbaijan. In certain cases, therefore, foreign persons doing business in Azerbaijan may want to specify in the agreement with local persons their methods of investment in order to benefit from the guarantees set out in the FIL.
Waiver of Sovereign Immunity
The Foreign Investment Law allows foreign investors to bring claims again Azerbaijani government agencies for any damage to foreign investors and their businesses. These provisions operate as the waiver of sovereign immunity. Additionally, foreign investors and Azerbaijani government agencies may agree on foreign arbitration as the dispute resolution mechanism. Please see below discussion on recourse to ICSID arbitration.
Transfer of Currency Outside Azerbaijan
Azerbaijani currency regulations are fairly flexible in allowing foreign investors to transfer their funds in foreign currencies outside Azerbaijan. The Foreign Investment Law guarantees free transfer of foreign investors' funds in different currencies outside Azerbaijan. Local banks and other financial institutions, however, rather follow the regulations of the Central Bank of Azerbaijan (CBA). The CBA has adopted rules on transfer of foreign currencies in and outside Azerbaijan. These rules generally require the CBA's consent for the transfer of foreign currency outside Azerbaijan. There are, however, certain transfers for which the CBA's consent is not required – i.e., banks may make those transfers without the CBA's permission. Most foreign investors doing business in Azerbaijan on a continuous basis may make, among others, the following transfers of foreign currency without the CBA permission:
payment for loans (interest and principal) and other similar debt
payment of dividend outside Azerbaijan
transfer of previously transferred foreign currency
investments outside Azerbaijan, and
transfers to deposits with foreign (non-Azerbaijani) banks.
We have listed these transfers, as in practice foreign investors may use any of these exceptions (i.e., exception from the CBA permission) to transfer their funds in a foreign currency (mostly, USD and EUR) outside Azerbaijan, such as to their home country.
Bilateral Investment Treaties
Azerbaijan has entered into bilateral treaties on promotion and protection of foreign investment with over 35 countries. The United States, Turkey, Great Britain, France, Germany and Switzerland are among those countries. Typical investment treaties guarantee national treatment of foreign investors, "prompt, adequate" and fair (fair market value of the compensated property) compensation for any nationalization or seizure of a foreign investor's property. These treaties also guarantee free transfer of investments and related funds outside Azerbaijan.
Most such treaties provide for settlement of disputes in the International Center for the Settlement of Investment Disputes (ICSID) located in Washington D.C., United States. This allows a foreign investor to apply to ICSID to resolve investment related disputes even if the investor has not agreed with the host state to resolve disputes via ICSID. By way of illustration, the US-Azerbaijan bilateral investment treaty defines an "investment dispute" as a dispute arising between a company of one state (e.g., a US company) and the other state (e.g., Azerbaijan), and which relates to an investment. The treaty provides that these disputes can be resolved in national courts or through arbitration, including ICSID arbitration. It is not necessary for parties to a dispute (e.g., company and the state) to agree on ICSID arbitration in advance. The investor may have recourse to ICSID without any agreement to that effect.
Useful links
Azerbaijan Export and Investment Promotion Foundation (AZPROMO)
Associated Documents & Reading Material

Investing and Business in Azerbaijan 2014.pdf
Source: Rashid Aliyev, Partner, Remells Law Firm
Return to Press Page