Economic Indicators Continue Strong in Cyprus
Official statistics in Cyprus and at EU level reveal continued positive momentum in the economy, with optimistic outlook.
| | |
| --- | --- |
| Published on: 08 January 2018 | |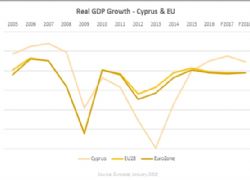 Cyprus has managed to make up exceptional ground to bounce back and return to economic growth in very short time, following its downturn and banking issues.
Looking ahead, growth is expected to be robust. Continued reform in the public domain, foreign investments, and new major developments, together with good potential in new economic sectors are all poised to drive further positive impact.
The economy is well and truly stabilised and maintains good prospects up ahead. Real GDP growth was already above the EU and Euro Zone average in 2016 at 3%, and expected to be so again in 2017 and 2018 at 3.5% and 2.9%, respectively. Unemployment in Cyprus also continues to decline, which should provide even further stimulus to local activity.
Unemployed persons, registered at the District Labour Offices on the last day of December 2017, reached 35.771 persons. Based on the seasonally adjusted data that show the trend of unemployment, the number of registered unemployed for December 2017 decreased to 30.972 persons in comparison to 31.366 in the previous month. In comparison with December 2016, a decrease of 6.081 persons or 14,5% was recorded which was mainly observed in the sectors of construction (a decrease of 1.230 unemployed persons), trade (a decrease of 1.089), public administration (a decrease of 766), financial and insurance activities (a decrease of 559), manufacturing (a decrease of 576) and to newcomers in the labour market (a decrease of 630).
Overall, Cyprus continues to experience strong improvement in the performance of and outlook for its public finances, whilst the budget is on track to record a surplus. As such, its ratings by Fitch has been upgraded with a positive outlook.
Traditional key economic sectors remain healthy, namely tourism, professional and financial services, maritime/shipping, and construction/real estate. Tourism in particular has seen exceptional growth over the last couple of years. The 2016 tourism season experienced exceptional growth, with almost 3.2 million arrivals, up +19.8% over 2015 and making it a record-breaking year. This positive momentum continued in 2017, surpassing these figures with very good growth. Receipts from tourism also follow this positive pattern. In 2015, increasing by 4.4%, then a further 11.9% in 2016, the largest increase over the last decade. In 2017, this is expected to rise even further.
Meanwhile, continued advancements in energy and gas pave the road for a likely new boom in the economy.
Source: Investment Gateway
Return to Press Page