Staying the Course Amid High Risks
Spring 2016 Economic Forecast - Commission forecasts euro area growth of 1.6% and EU growth of 1.8% in 2016.
| | |
| --- | --- |
| Published on: 05 May 2017 | |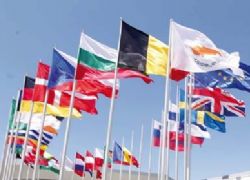 Economic growth in Europe is expected to remain modest as key trading partners' performance has slowed and some of the so far supportive factors start to wane.
As a result, GDP in the euro area is forecast to continue growing at modest rates over the 2015-2017 period. According to its spring forecast, the Commission expects euro area GDP of 1.6% in 2016 and 1.8% in 2017 after 1.7% in 2015 (Winter forecast: 2015: 1.6%, 2016: 1.7%, 2017: 1.9%). GDP growth in the EU is expected to moderate from 2.0% last year to 1.8% in 2016 before reaching 1.9% in 2017 (Winter forecast: 2015: 1.9%, 2016: 1.9%, 2017: 2.0%).
Very accommodative monetary policy has set the scene for a pick-up in investment by making access to funding easier and cheaper. Fiscal policy in the euro area is expected to be supportive of growth this year. But although oil prices fell again in early 2016 and prolonged the boost to real disposable incomes, the strength of this support should gradually fade as the oil price rebounds. Similarly, although euro area exports are still benefiting somewhat from the euro's past depreciation, the currency's recent rise could make the euro area more susceptible to the effects of slower external growth.
Vice-President Valdis Dombrovskis, responsible for the Euro and Social Dialogue, said: "The economic recovery in Europe continues but the global context is less conducive than it was. Future growth will increasingly depend on the opportunities we create for ourselves. That means stepping up our structural reform efforts to address long-standing problems in many countries – high levels of public and private debt, vulnerabilities in the financial sector or declining competitiveness. A decisive policy action to reform and modernise our economies is the only way to ensure strong and sustainable growth, more jobs and good social conditions for our people."
Pierre Moscovici, Commissioner for Economic and Financial Affairs, Taxation and Customs, said: "Growth in Europe is holding up despite a more difficult global environment. There are signs that policy efforts are gradually delivering more jobs and supporting investment. But we have much more to do to tackle inequality. The recovery in the euro area remains uneven, both between Member States and between the weakest and the strongest in society. That is unacceptable and requires determined action from governments, both individually and collectively."
The economies of all Member States should grow by 2017
Economic growth is set to rise or remain broadly stable in most Member States over the forecast horizon. The economies of all Member States are expected to expand next year, but growth is still expected to remain uneven across the EU.
Euro area net exports are expected to remain a drag on growth in 2016 before turning neutral in 2017. Therefore, growth will depend on domestic demand: investment is expected to pick up next year to 3.8% in both the euro area and the European Union and private consumption is expected to moderate as the expected rebound in inflation will reduce real income growth.
Labour market improvement to continue
The moderate pace of improvement in labour markets is expected to continue, driven by the lagged response to improved cyclical conditions and contained wage growth. In some Member States, labour market reforms implemented in recent years and fiscal policy measures are also supporting net job creation. Although labour market disparities are set to remain for some time, unemployment in the euro area is expected to fall to 10.3% in 2016 and then 9.9% in 2017, compared to 10.9% in 2015. In the EU as a whole, unemployment is expected to fall from 9.4% in 2015 to 8.9% in 2016 and 8.5% in 2017.
Fiscal policy remains supportive; the fiscal outlook improves
The aggregate general government deficit in both the euro area and the EU is forecast to continue decreasing this year and next, on the back of economic growth and low interest rates. The general government deficit in the euro area as a whole is expected to decrease from 2.1% of GDP in 2015 (EU 2.4%) to 1.9% in 2016 (EU 2.1%) and 1.6% in 2017 (EU 1.8%), under a no-policy-change assumption. The fiscal stance of the euro area is expected to be slightly expansionary this year. The debt-to-GDP ratio meanwhile is forecast to continue declining gradually from 94.4% in 2014 to 91.1% in the euro area in 2017 (EU 85.5%).
Inflation remains driven by energy prices
Oil prices fell again at the start of 2016, dragging inflation below zero. It is expected that inflation remains close to zero in the near term as energy prices are lower than a year ago. External price pressures are also weak amid a slightly appreciating euro and rather subdued global producer prices. Inflation should rise more significantly in the second half of this year as energy prices gradually pick up and domestic prices increase on the back of strengthening domestic demand. Consumer price inflation is forecast at 0.2% in the euro area this year (EU 0.3%) and at 1.4% in 2017 (EU 1.5%).
The outlook for global growth remains weak
Growth outside the EU last year likely fell to its slowest pace since 2009 (at 3.2% in 2015), triggered by the slowdown in emerging markets. The outlook for global GDP growth has weakened further as major advanced economies also slowed, and expectations of a modest pick-up are subject to a high degree of uncertainty. The world economy is expected to grow by 3.1% in 2016 and 3.4% in 2017. 
Considerable risks surround the European economic outlook
Substantial uncertainty surrounds this forecast. External risks include the possibility that slower growth in emerging markets, particularly China, could trigger stronger spillovers or turn out worse than expected. Uncertainty linked to geopolitical tensions remains high and could affect European economies more negatively than currently expected. Abrupt moves in oil prices or financial market turmoil could also dampen European growth. Additionally, risks associated with domestic EU developments remain considerable, as for instance with regards to the pace of implementation of structural reforms and the uncertainty ahead of the UK's EU referendum. Conversely, the positive impact from structural reforms could turn out greater than estimated and the transmission of very accommodative monetary policies to the real economy could prove to be stronger than expected.
Background
This forecast takes into consideration all relevant available data and factors, including assumptions about government policies, up until and including 22 April 2016. Only policies credibly announced and specified in adequate detail are incorporated. Projections assume no policy changes. This forecast is also based on a set of external assumptions concerning exchange rates, interest rates and commodity prices. The numbers used reflect market expectations derived from derivatives markets at the time of the forecast.
This economic forecast will feed into the Spring package of the European Semester.
The Commission is due to update its economic forecast in November 2016.
Source: European Commission
Return to Press Page