Investment Plan for Europe
The Council discussed proposal to establish European fund for strategic investments, expected to mobilise at least €315bn in private & public investment.
| | |
| --- | --- |
| Published on: 28 January 2015 | |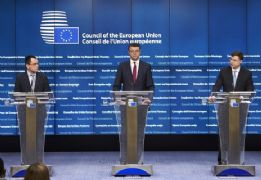 The presidency confirmed plans to reach an agreement in March 2015, so as to allow for new investments as early as mid-2015.  
"This proposal is the cornerstone of investment plan for Europe and a major priority for the Latvian presidency", said Jānis Reirs, Minister for Finance of Latvia and President of the Council. "The deadline set by the European Council is ambitious, but we are confident of being able to meet it."
Macro-financial assistance to Ukraine  
Ministers discussed a proposal by the Commission to grant macro-financial assistance of up to €1.8 billion to Ukraine. The presidency concluded that a decision had to be taken quickly.  
"Political developments mean that the EU must be in a position to provide assistance", said Mr Reirs.  
The assistance would be provided in the form of medium-term loans, disbursed in three instalments. It would help cover Ukraine's outstanding external financing needs in 2015-16.  
Money laundering and terrorist financing  
The Council endorsed an agreement reached with the European Parliament on new rules to prevent money laundering  and terrorist financing.  
Agreement with the Parliament was reached by the presidency in December 2014. Approval of that outcome paves the way for adoption of the package at second reading.  
Following the recent terrorist attacks in Paris, the Council and the Commission agreed a statement highlighting the need to take decisive actions against terrorist financing.  
To enhance the efficiency of the new rules, the statement calls for further efforts towards: 
speeding up national implementation of those rules;
strengthening cooperation on terrorist financing between the member states' financial intelligence units;
addressing terrorist financing risks via the EU's supranational risk assessment.  
Tackling corporate tax avoidance  
The Council amended the EU's parent-subsidiary directive, adding an  anti-abuse clause to prevent tax avoidance and aggressive tax planning by corporate groups.  
The aim is to stop the directive from being misused, and to achieve greater consistency in its application in different member states. The anti-abuse clause will prevent member states from granting the benefits of the directive to arrangements that are not "genuine", i.e. that have been put into place to obtain a tax advantage without reflecting economic reality.  
"This is the second important change we have made to the parent-subsidiary directive", said Mr Reirs. "Fighting tax avoidance by multinationals is a high priority both for the EU and at international level".
Associated Documents & Reading Material

Outcome of the meeting 3366th.pdf
Source: European Commission
Return to Press Page